A "hotspot" is a site where anyone with a computer or other device with Wi-Fi capability can come and browse the Internet for free using the District's wireless network. Hotspots can be found throughout the city, including the National Mall. Use this map to view wireless coverage areas along the National Mall.
View a 3D Map of Wireless Coverage on the National Mall (DC Wifi 802.11 b/g | 48mbps).
Note: The Google Earth Plug-in is required - The Google Earth plug-in allows you to navigate and explore geographic data on a 3D globe using a web browser.
Directory/Mobile Title:
Wi-Fi Coverage Area on the National Mall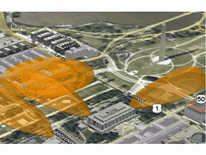 Office Hours:
Monday to Friday, 9 am to 5 pm