Washington, DC
DC Teacher Surprised With Milken Educator Award and $25,000 Cash
Thursday, January 8, 2015
The 2015 "Oscar of Teaching" recipient has had a profound impact on her school, District and students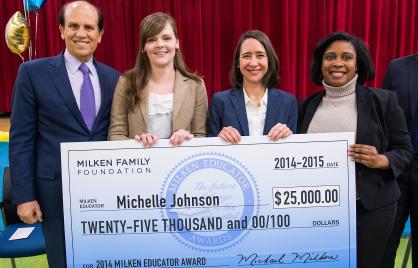 Amid cheers and applause from students and dignitaries alike, second-grade teacher Michelle Johnson was the first educator in 2015 to be surprised with the prestigious Milken Educator Award and $25,000 during a morning assembly at DC's Seaton Elementary School today.
Milken Family Foundation Cofounder Mike Milken, together with Interim State Superintendent Amy Maisterra, delivered the news to the shocked young teacher.
"During her relatively short time as an educator, Michelle Johnson has had a profound impact on her school, her district and her students," said Milken. "By getting kids in her classroom excited about learning and thinking for themselves, she significantly improved their achievement levels. Her work captures the spirit of the Milken Educator Awards, which for 28 years have recognized and rewarded outstanding teachers in the same ways we celebrate heroes from other fields."
The majority of Johnson's students during her first year at Seaton, located a short distance from the White House in the historic Shaw neighborhood, had serious academic deficits. Despite their challenges, however, students grew at least five book levels and many had double digit growth. Ninety-nine percent of Seaton students qualify for free or reduced lunch and 45 percent are English language learners.
Johnson is one of up to 40 recipients across the country this school year receiving the honor during the 2014–15 season and the only one in DC.
"We are excited to recognize Michelle Johnson for her role in shaping the future of so many of our students," said Maisterra. "Michelle cares deeply about education and she embodies the creative spirit upon which the Milken Family Awards were founded."
Hailed as the "Oscars of Teaching" by Teacher Magazine, the Milken Award recognizes exemplary elementary and secondary school teachers, principals and specialists who are furthering excellence in education. The award comes with an unrestricted financial prize of $25,000 and alternates yearly between elementary and secondary educators. Milken Awards are sourced through each participating state department of education, which appoints an independent blue ribbon committee to confidentially review candidates for recommendation to MFF.
Along with the recognition typically bestowed to recipients, Johnson now belongs to a network of more than 2,600 K–12 teachers, principals and specialists from around the country. Past recipients have used their Awards to finance their children's education or their own continuing education. Others have financed dream field trips, established scholarships and even funded the adoption of children.
DC joined the Milken Educator Awards program in 2003 and there have been 11 recipients since the program began there. View photos from the event.
To get regular updates on notifications, follow the #TeachForTheStars and #MilkenAward hashtags on Twitter and Instagram.
For information about the Milken Educator Awards, visit http://www.milkeneducatorawards.org/ or call MFF at (310) 570-4775. Like the Awards at www.facebook.com/milkeneducatorawards, follow us at www.twitter.com/milken, watch the reaction videos at www.youtube.com/milkenaward and find us on http://instagram.com/milkenfamilyfdn.
The Milken Educator Awards program, created by the Milken Family Foundation, was launched in 1987. The Awards provide public recognition and individual financial rewards of $25,000 to elementary and secondary school teachers, principals and specialists from around the country who are furthering excellence in education. Recipients are heralded in early to mid-career for what they have achieved and for the promise of what they will accomplish.