Washington, DC
DC Public Schools Renews Commitment to Equity and Excellence with DC School Report Card and STAR Ratings Release
(Washington, DC) – Today, the Office of the State Superintendent of Education (OSSE) released the DC School Report Card, which includes information about how every public school in the District performed during School Year 2017-2018. The DC School Report Card includes more than 150 data points, including the School Transparency and Reporting (STAR) Framework rating of overall school performance. Within this framework, schools are rated from 1 to 5 stars, with 5 being the highest. Both the report card and accountability framework are requirements for all states under the federal Every Student Succeeds Act (ESSA).
"DCPS is committed to providing every student with an education that is grounded in equity and excellence," said Interim DC Public Schools Chancellor Amanda Alexander. "There are incredible things happening in every DCPS school, and we are proud that 65 DCPS schools earned a 3, 4, or 5 STAR Rating. We also know that we cannot celebrate our highest performing schools without also recognizing that in many ways, the STAR Rating results reflect the historical inequities that impact the students that we serve, particularly for families in Wards 7 and 8. We have a responsibility to do better for our students, and to ensure that every student in every ward has access to the high-quality education they deserve."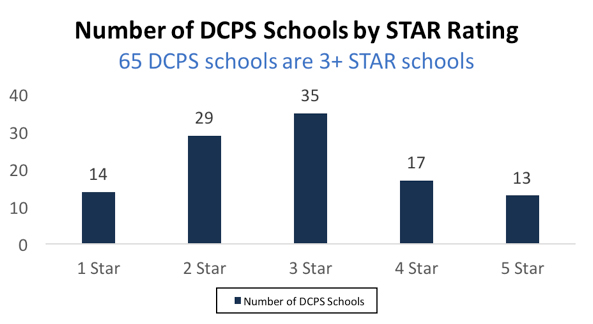 OSSE designed the School Report Card to provide families with a range of information, including school points of pride, academic performance, attendance, and each school's STAR Rating. The STAR Framework includes multiple areas of school performance, including PARCC results and growth, re-enrollment, chronic absenteeism, and graduation rates, when applicable. These points are totaled for the school overall and for each group of students, including students' race/ethnicity group, students with disabilities, English Learners, and students who meet the city's definition of At-Risk. The result is the school's score (up to 100 points) and a rating from 1 to 5 stars. OSSE also announced an $11 million investment in grants, available for schools rated at the bottom 5% of the STAR Framework, as required by ESSA. Schools identified will receive approximately $1 million distributed over three years for school improvement and will engage families and communities in creating their school improvement plan.
"The STAR Ratings give us a lot of information to unpack, but they are only one measure of what makes a school great," Interim DCPS Chancellor Amanda Alexander continued. "When I visit schools across the District, I see educators, leaders, parents, and communities that are setting students up for success in innovative ways, and we will continue to celebrate their work. We look forward to continuing to partner with our families and communities to keep them informed and engaged on the path forward for every school."
In DCPS' five-year strategic plan, A Capital Commitment, DCPS committed to increasing the number of excellent schools throughout the district. DCPS recognizes that some of its schools need to accelerate progress, and is prioritizing supports and resources to ensure that they are on the pathway to excellence. Community members can access a snapshot of every school's Comprehensive School Plan on the DCPS website.
DCPS is committed to expanding equity and excellence across all eight wards, and school leaders are providing students and families with the supports they need to grow and thrive. For example:
Ketcham Elementary School (Ward 8), which received 3 STARS, will focus on educating students earlier by welcoming infants and toddlers to their school in 2019 and will continue to prioritize using data to uniquely meet every student's individual needs.
Coolidge High School (Ward 4), which received 1 STAR, is partnering with local universities to launch an early college program during School Year 2019-2020. This program will allow students to earn up to 60 college credits, the equivalent of about two years of higher education, or an Associate's Degree.
Kelly Miller Middle School (Ward 7), which received 2 STARS, recently became a full-service community school and will offer academic supports, health and social services, and youth and community engagement to the entire school community.
Langdon Elementary School (Ward 5), which received 4 STARS, saw tremendous PARCC gains during School Year 2017-2018, and will continue to prioritize social emotional learning through mindfulness in their math and literacy courses.
Hardy Middle School (Ward 2), which received 5 STARS, will continue to prioritize social emotional learning, deliver high-quality, rigorous instruction that meets every student's individual needs, and provide high-quality, ongoing professional development to educators.
DCPS is focused on keeping equity at the core of its work, empowering schools to provide an excellent education to every child from PreK-12, and differentiating supports in order to give every school community what it needs to succeed.
DCPS encourages families to stay engaged with their schools in the coming weeks and months. Learn more about the STAR ratings on the DCPS website.