Washington, DC
Veterans Day 2014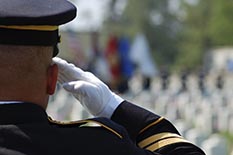 Veterans Day is Tuesday, November 11. The DC government will be closed, and most city services will be suspended. From wreath-laying ceremonies to the Concert for Valor, there are many events taking place in and around Washington, DC.
Mayor Vincent C. Gray's 2014 Veterans Day Proclamation.
City Services
Trash and recycling collection will be suspended on Tuesday, November 11, as will street and alley cleaning. Parking enforcement will be suspended, except around the National Mall where all parking regulations, including "Emergency No Parking" will be enforced and vehicles may be towed. Services will resume Wednesday, November 12.
See more information about services affected by the holiday.
Parks and Recreation
All DPR facilities will be closed on Veterans Day. All permitted events will take place, and all playgrounds and fields will be open.
The Concert for Valor
Bruce Springsteen, Rihanna, Carrie Underwood, Jennifer Hudson and many others will join visitors on the National Mall for a free concert starting at 10 am on November 11. Get more information about the Concert for Valor.