The Language Access (LA) Program exists to ensure District residents who are limited (LEP) or non-English proficient (NEP) are afforded equal access to information and services provided by District government agencies. Residents who speak little English must be offered interpretation services and/or translated documents when obtaining government services, as required by the Language Access Act of 2004. LA Program staff engage in extensive community outreach, provide training and technical support to District agencies working with LEP/NEP residents, and measure the effectiveness of agencies in serving such populations by examining resource allocation and service delivery.
MOLA's Language Access program provides technical support to DC Government Agencies covered by the LAA to ensure that culturally and linguistically competent city services are delivered to the Spanish-speaking residents of the District. MOLA collaborates with DC agencies in the following areas:
Outreach via community events, educational workshops, social media messages, and others.
Monitoring visits to agencies covered by the LAA to assess progress in providing language access to Latino constituents and recommend courses of action and collaboration opportunities.
Quality control of translated documents in Spanish.
Provide electronic equipment for simultaneous interpretation services upon request.
Cultural competency training and monthly discussions on best practices in language access for Latino constituents.
Data collection regarding Latino LEP/NEPs.
Dissemination of agencies' bilingual employment ads to encourage the hiring of Spanish speaking candidates.
Other special projects.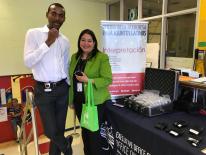 Office Hours:
Monday to Friday, except District holidays, 9 am to 5 pm.
Service Location:
GIS Address:
2235 Shannon Place SE, Suite 3040